Apprenticeship Works newsletter
View the summer edition of the Apprenticeship Works newsletter.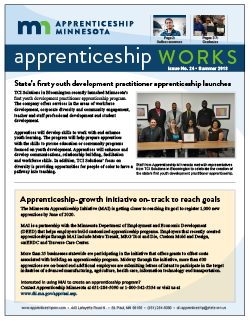 In this edition:
State's first youth development practitioner apprenticeship launches

Apprenticeship-growth initiative on-track to reach goals

Health fair connects employers, jobseekers, Apprenticeship Minnesota

Minnesota's Building and Construction Trades Councils receive national award

Apprenticeship resources available online

Apprenticeship by the numbers

Hundreds participate in apprenticeship graduations
 View past editions of the Apprenticeship Works newsletter.
---
About Apprenticeship Works
Apprenticeship Works is a quarterly publication of Apprenticeship Minnesota. Its purpose is to inform those interested in apprenticeship about the purpose, plans and progress of Apprenticeship Minnesota at the Department of Labor and Industry. Subscribers will receive an email each quarter when a new edition is available online. They will also receive periodic updates about apprenticeship activities and educational opportunities.