Apprenticeship Works newsletter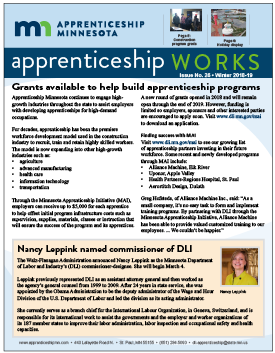 View the winter edition of the Apprenticeship Works newsletter.
In this edition:
Grants available to help build apprenticeship programs

Nancy Leppink named commissioner of DLI

Apprenticeship Week welcomes veterans, educators and training centers

Congratulations to members of Apprenticeship Advisory Board

Thank you for making Apprenticeship Week a success

Women in Construction Week begins March 3

New website teaches students about construction careers

Apprentice events, and more.
 View past editions of the Apprenticeship Works newsletter.
---
About Apprenticeship Works
Apprenticeship Works is a quarterly publication of Apprenticeship Minnesota. Its purpose is to inform those interested in apprenticeship about the purpose, plans and progress of Apprenticeship Minnesota at the Department of Labor and Industry. Subscribers will receive an email each quarter when a new edition is available online. They will also receive periodic updates about apprenticeship activities and educational opportunities.