Apprenticeship Works newsletter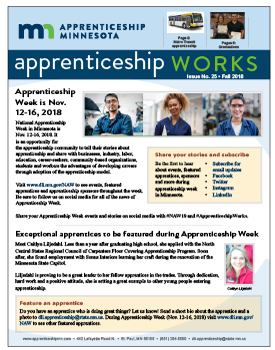 View the fall edition of the Apprenticeship Works newsletter.
In this edition:
Apprenticeship Week is Nov. 12-16, 2018

Apprentices to be featured during Apprenticeship Week

Metro Transit hopes to stem driver shortage with apprenticeship

Apprenticeship Minnesota represented at national conference

Apprenticeship Minnesota participates in Veterans Career Fair

Laborers host open house

Construct Tomorrow introduces students to the building trades

Apprentice graduations, and more.
 View past editions of the Apprenticeship Works newsletter.
---
About Apprenticeship Works
Apprenticeship Works is a quarterly publication of Apprenticeship Minnesota. Its purpose is to inform those interested in apprenticeship about the purpose, plans and progress of Apprenticeship Minnesota at the Department of Labor and Industry. Subscribers will receive an email each quarter when a new edition is available online. They will also receive periodic updates about apprenticeship activities and educational opportunities.