Whether you have one or 100 apprentices, we know it takes dedication to create a successful apprenticeship program. During National Apprenticeship Week we featured a few of Minnesota's many outstanding apprenticeship program sponsors. 
Learn how apprenticeship can help build your business.
---
Friday, Nov. 16
Minnesota Rural Electrical Association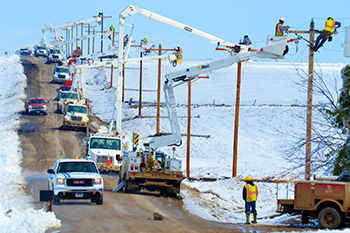 Many of the apprentices in the powerline worker trade can be found working for electric cooperatives in the rural communities of Minnesota. To ensure that these apprentices are receiving the proper technical and safety training they need, many of these utility providers turn to the Minnesota Rural Electrical Association (MREA).
For more than 75 years, the MREA has provided powerline workers with the training they need to safely keep the lights on in all corners of Minnesota.
---
Thursday, Nov. 15
Fairview Health Services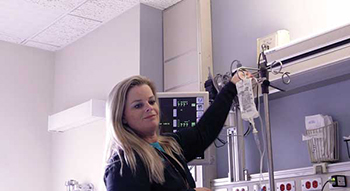 With more than 130 apprentices in Minnesota, Fairview Health Services has the most apprentices in the health care industry.
Fairview developed their apprenticeship program in 2017 as a way to attract and retain registered nurses and encourage the pursuit of higher education. These apprentices are not only working and learning on the job, they are also pursuing a college education.
This unique program is an example of how apprenticeship programs can be specialized to meet the needs of employers throughout Minnesota.
---
Wednesday, Nov. 14
Metro Transit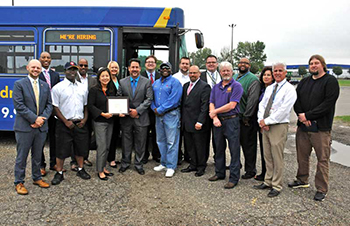 Finding workers to fill job openings can be difficult. In an effort to increase the number of bus drivers in the Twin Cities, Metro Transit turned to registered apprenticeship as a way to recruit, train and retain drivers.
Metro Transit plans to start with 40 apprentices and add up to 200 more over the next few years. Apprentices will be partnered with experienced drivers, who will mentor the new drivers.
Metro Transit used funding, and support, available through the Minnesota Apprenticeship Initiative grant to create their apprentice program.
---
Tuesday, Nov 13
Finishing Trades Institute of the Upper Midwest
The demographics of Minnesota are changing. One organization that has been making strides to represent all populations in their apprenticeship programs is the Finishing Trades Institute of the Upper Midwest (FTI). Women and people of color make up nearly 50-percent of the institute's apprentice painters in Minneapolis and St. Paul.
The FTI represents more than 400 registered apprentices throughout the state and houses several apprenticeship programs under one roof including: painters, paperhangers, drywall finishers, glassworkers, glaziers and sign/display workers.
Construct Tomorrow introduces students to the construction trades

Construct Tomorrow gives high-school students a hands-on opportunity to learn about apprenticeships in the construction trades. Construct Tomorrow is a partnership of the Apprenticeship Coordinators Association of Minnesota, educators, employers and government agencies. Since 2013, more than 10,000 students have attended Construct Tomorrow events throughout Minnesota.
---
Monday Nov. 12 
Ajax Metal Forming Solutions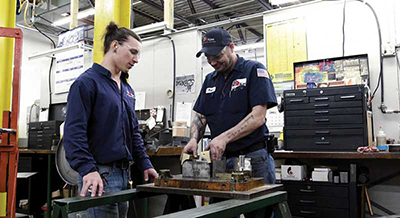 To address the challenges manufacturers face in finding quality employees, Ajax Metal Forming Solutions has embraced registered apprenticeship and is hiring veterans as a way to build their workforce.
From leadership and team building, to being able to quickly adapt to change company officials said veterans bring with them a wide range of skills. Through their apprenticeship program, Ajax Metal Forming Solution has provided veterans the opportunity to use these skills to start a new career and make a positive impact on the company's workforce.
---
Sunday, Nov. 11
St. Paul Fire Department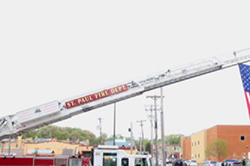 To better serve and protect the residents of St. Paul, the St. Paul Fire Department (SPFD) has embraced the benefits of a registered apprenticeship program.
With 81 firefighters currently registered through Apprenticeship Minnesota, the SPFD believes the consistency of training an apprenticeship program offers creates a more engaged, motivated and valuable firefighter. By using a registered apprenticeship program, the SPFD ensures that their firefighters are prepared to serve their community.